The Best Monty Python Gifts
If you're a fan of Monty Python (I know I am!) – then at some point in your life you've bought some Monty Python merchandise. A pair of socks, perhaps? The Monty Python Sings CD? With so much great Monty Python Gifts out there – let's take a look at some great items you may have missed. These all make fantastic presents for any Monty Python fan – or sod generosity! Why not treat yourself?
"None shall pass!" At 7 and a bit inches tall – this imposing Black Knight Statue speaks 10 phrases from the medieval epic "Monty Python and the Holy Grail". You know them all by now, "Have at you", "It's Alright, We'll call it a draw", "I've had worse" – and most famous of them all, "Tis but a flesh wound!".
Highly detailed and battery driven, he even comes with removable arms so you can inflict flesh wounds on him!
Why not buy him now? Oh… I see… you're running away ehh?… you yellow Bastard!!!"
This is advertised as a Monty Python and the Holy Grail "Tin Tote". Now, just what is a tin tote? It looks like a sort of metal lunchbox to me. Or a tin box to keep pens and pencils, with a handy strap to carry it around with you? Probably an American thing. Websters dictionary doesn't seem to know what a tin tote is, either. So, use it as you wish! This "Tin Tote" measures roughly 8 by 6 inches as has some lovely artwork of the black knight on the front. So, who cares what purpose it has as long as it's a cool Monty Python and the Holy Grail gift!
I don't know why, but this is my favorite Monty Python gift of them all! I have even ordered one for myself! Again, it's from the movie Monty Python and the Holy Grail (most of the Monty Python merchandise I could find seem to relate to that film in someway!). It's squeezable – and it talks! For those who don't know, The hand grenade became holy when Saint Attilia requested God to bless a grenade, turning it into "The Holy Hand Grenade of Antioch" –  "O lord, bless this thy hand grenade, that with it thou mayest blow thy enemies to tiny bits, in thy mercy."
This comes with 14 different phrases from the film. Batteries not included! 
If you are really into your plush toys (plushables?), then here's another one for you – again a Monty Python and the Holy Grail piece of merchandise! This time it's the Killer Rabbit of Caerbannog! This is no ordinary rabbit, it's the cruelest beastie you will ever lay eyes on! It'll rip your heart out so much as look at you! Measuring 13 inches by 6, with sharp pointy teeth, and an evil glint in it's eye – this is one ferocious rabbit that'll make even the bravest knight soil his armour. Unlike the holy hand grenade plush, this one doesn't talk. Made in China.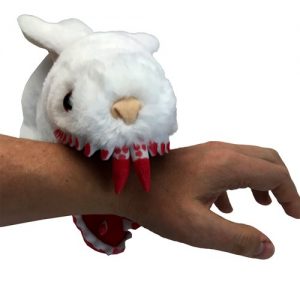 And now for something completely different! If plushes and Tin Totes aren't your thing, here's a Monty Python gift which the whole family can enjoy!
Now, I had never heard of Fluxx card games before writing this list, but on inspection – they look like a lot of fun. Different to other card games, the rules "change" throughout the game. To make things even more different, the pythons have got involved with this game! Half an hour playing time where you can Sing, quote Monty Python, speak in funny accents, and fart in your family members' general direction!
Yes, I know what you're thinking – More Holy Grail merchandise? Yes, I agree – it would have been nice to include something from the Life of Brian (maybe a plush talking Brian on a crucifix?) – but I couldn't find anything! And this Monty Python Black Knight Coaster Set really does look swanky. They feature the black knight again, and four different Black Knight quotes. They are made from a material called Neoprene – which is a bit like rubber by all accounts. And they are also advertised as water resistant, which is the least you can expect from a coaster if you ask me.
Now this Monty Python gift is definitely going on my Christmas list this year! It's the Monty Python Really SIlly Board Game! This game promised to have you rolling around on the floor, laughing as hard as Ernest Scibbler himself! Players must throw a dice (natch), and travel around the board collecting SPAM, all the while answering questions on Monty Python trivia. Take your pick from 6 characters : Mr Gumby, One of the Knights of Ni, A Spanish Inquisitor, Mr Creosote (from the Meaning of Life), The Singing Lumberjack & Brian of Nazareth. It also has you performing silly "tasks" – such as re-enacting the John Cleese silly walk.
Well I hadn't included a T-Shirt yet, so I thought I may as well throw one in.  Smashin', ain't it?
I don't know much about art – but I know what I like! Here's a Monty Python Oil Painting to add a bit of class to the list! Nobody expected that,  just like nobody expects the Spanish Inquisition! Just to reiterate – this is an OIL PAINTING, not a cheap poster / print or what-have-you.It measures 28 x 16 and wouldn't look out of place hanging up in a chapel or a stately home. Maybe hang it in your hallway or entrance hall (if you're rich enough) – and when you have guests over they are all sure to remark: "I never expected that!")
The simple things in life are somethings the best – and you can't get more simple than this elegant, subtly designed Ministry of SIlly Walks Monty Python Mug. Featuring a small silhouette of Cleese walking round the exterior of the mug, this is the perfect gift for monty Python lover's everywhere – especially who like to drink Tea. Or Coffee or Horlicks. Or Hot Chocolate. Or Gin and Tonic – there are some people out there who drink Gin and Tonic out of a mug, i'm sure. Because this item is sold on RedBubble, you can also order the same design on a throw pillow or Iphone Skin. Winner!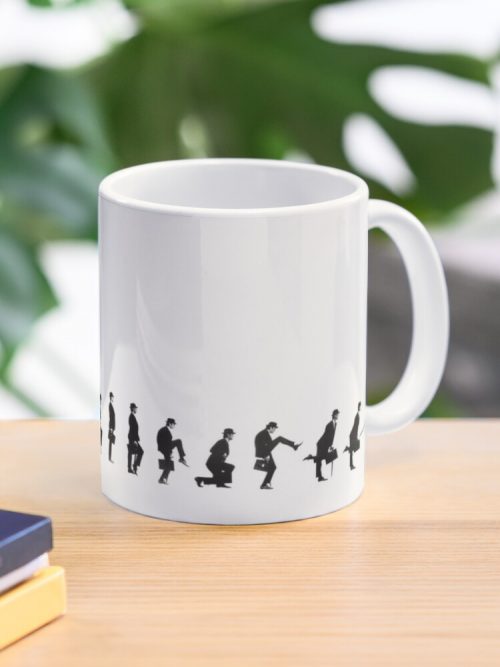 Now, what use is a Monty Python Gifts list without the creme-dela-creme – The complete Monty Python's Flying Circus collection on Blu-Ray? What more could any self-respecting Monty Python fan ask for? This is the Limited Edition Norweigian Exploding Box edition!* 7 discs jam-packed with all the sketches (specially restored), unseen outtakes, promo films and more! It also includes 4 books by Andrew Pixley detailing the production history – episode by episode. Absolutely fantastic – if you are going to buy just one Monty Python gift this century – make sure it's this one! *I don't think the box actually explodes – but I'm waiting for confirmation on that.